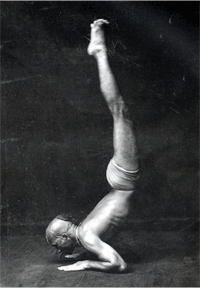 Ashtanga Yoga, as we practice it today, goes back to the teachings of Sri K Pattabhi Jois (1915-2009). It bears a strong relation to the teachings of his teacher Sri Trimulai Krishnamacharya, and therewith to a far-reaching lineage of important Yoga teachers and Rishis. Pattabhi Jois' family is continuing the lineage of this specific Hatha Yoga form: his daughter Saraswati, his son Manju and his grandson Sharath Jois.
The term Ashtanga is Sanskrit: Ashta means eight and Anga means limbs. Practising Ashtanga means practising the Eight Limbs path. Patanjali has defined this in an ancient text called the Yoga Sutras.

Ashtanga Yoga is an energetic practice, a dynamic meditation. It is a powerful system that, when practised on a regular basis, leads to more flexibility, strength and health in miscellaneous aspects of our lives. The sequences of postures (called Asanas in the Sanskrit language) of this Yoga form are composed in order to align the muscular and skeletal system, purify the nervous system and detoxify the body so that Prana (energy) can move freely within it. The different sequences are: The Primary Series – Yoga Chikitsa (Yoga therapy), the Intermediate Series – Nadi Shodana (cleansing of the energy channels within the body) and the different Advanced Series – Sthira Bhaga (strength and grace). Ashtanga Yoga uses a unique method known as Vinyasa – the connecting between breath and movement. The Vinyasa determines the way the different postures are dynamically linked together. The practice fully unfolds its power when it is combined with the breathing techniques and the energetic muscular "locks" called Bandhas. To calm the mind and to deepen the practice even further, the eyes focus on specific points depending on the Asana. Traditionally, Ashtanga Yoga is taught in Mysore-Style and led classes.

Mysore-Style classes
In this teaching system each student is individually taught the series of Ashtanga Yoga step by step, but within a group class setting. This enables the teacher to guide each student safely through the practice and to be responsive to everyone's individual issues and learning pace. Information and corrections that support the practitioner and ensure safe practice are communicated verbally and through hands-on adjustments.

Led classes
In the led class, the group is being instructed by the teacher to move together through the series following the original rhythm of the Sanskrit counting. A full practice of the Primary Series takes about 1,5 hours. This class is suitable for students practising in Mysore Style on a regular basis. It can also make sense for a group of beginners to be led through the standing and some of the sitting postures as well as the finishing Asanas in order to become familiar with the format and from there enter self-practice.

Private classes
The private classes are available by appointment. They are another opportuity to build up selfpractice or to deepen your Ashtanga Practice further. For more information and costs please feel free to contact me via e-mail.

Johanna & Ashtanga Yoga
Johanna is authorized by Manju Pattabhi Jois to teach traditional Ashtanga Yoga, Nadi Shodana Pranayama and Vedic Chanting.
She began studying Ashtanga Yoga with her dear friend and teacher Andrea Lutz in 2005 and has been practicing this method intensively on a daily base ever since. Over many years, Andrea has been teaching her how to teach the Ashtanga System and Johanna has been supporting her in building up the Ashtanga Studio Berlin. Johanna has been guiding Mysore and Led classes in the Ashtanga Studio on a regular basis and also as a freelance teacher in other places since 2007. She has regularly attended workshops and Ashtanga Yoga Teachers Trainings for the Primary and Intermediate Series with Manju Jois and Nancy Gilgoff in Berlin (GER) and has assisted them there in classes and workshops. From 2010 on she also has been practicing with Susanna Finocchi in Copenhagen (DK) and has been part of the teachers team of Astanga Yoga Copenhagen. Currently she is teaching Ashtanga Yoga classes mainly in Copenhagen and continues to teach for Andrea in Berlin. Johanna seeks to pass on the practice in the way she herself has been experiencing it with her teachers: in a deeply constructive way.