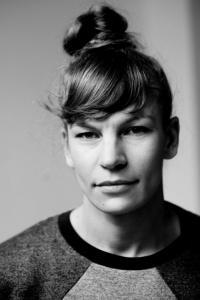 Dance
Johanna was born 1981 in Hanover (GER) and studied Modern and Contemporary Dance at the Hogeschool voor de Kunsten, Danceacademy Arnhem (NL) from 2000-2004.

She has been based in Berlin since 2004 and has worked with Jens van Daele; Eszter Gàl; Sasha Waltz & Guests; Trisha Brown; Pipaluk Supernova/Half Machine Copenhagen; AlexB; Mans Erlandson; Sanja Ristic/Cie Salon Sauvage; Maren Witte; Nir De Volff/TotalBrutal; Vidal Bini/KHZ and over the past several years with Margrèt-Sara Gudjónsdóttir and Mette Ingvartsen.
Regularly she has been involved in artistic collaboration with the visual artists Anne Sophie Malmberg, Annika Nilsson, and others.

She has been teaching workshops and classes in Improvisation & Composition and Dance Technique since 2005 and Ashtanga Yoga since 2007. Amongst other places, she has taught at Ponderosa Dance Festival, Tanzfabrik Berlin, Meg Stuart & Damaged Goods, Ekszena Zagreb, Ashtanga Studio Berlin, Eden Studios Berlin, Dansehallerne Copenhagen, Bauhaus University Weimar and University of Fine Arts Hamburg.
Since 2006, Johanna has been creating works mainly in collaboration with other artists, which have been performed internationally, won prices and opened festivals: the piece Festland together with Palina Krause; the work scrawling with Kathryn Rave; the solo Tief.Schwarz.; the short movies Stolzenhagen Princes together with the visual artists Sophie Malmberg and Annika Nilsson as well as the dance piece Dishevelled with Sonja Pregrad and the musician Neven Krajačić.

Her solo dance piece Shapes of Noise and Silence has first been presented at Aabendans Roskilde (DK) in 2017.
In the same year, she has been creating a choreography for Henrik Vibskovs fashion show The Five O´Clock Leg Alignment in Paris (FR) and Copenhagen (DK).
Johanna lives with her family in Denmarks countryside nearby Copenhagen.

Yoga
Johanna began studying Ashtanga Yoga with her dear friend and teacher Andrea Lutz in 2005 and has been practicing this method intensively on a daily base ever since. Over many years, Andrea has been teaching her how to teach the Ashtanga System and Johanna has been supporting her in building up the Ashtanga Studio Berlin. Johanna has been guiding Mysore and Led classes in the Ashtanga Studio on a regular basis and also as a freelance teacher in other places since 2007. She has regularly attended workshops and Ashtanga Yoga Teachers Trainings for the Primary and Intermediate and Advanced Series with Manju Jois and Nancy Gilgoff in Berlin (GER) and has assisted them there in classes and workshops. From 2010 on she also has been practicing with Susanna Finocchi in Copenhagen (DK) and has been part of the teachers team of Astanga Yoga Copenhagen. Currently she is teaching Ashtanga within the phrame of Ashtanga Yoga Ø and continues to teach at the Ashtanga Studio Berlin as a guest teacher. Johanna is authorized by Manju Pattabhi Jois to teach traditional Ashtanga Yoga, Nadi Shodana Pranayama and Vedic Chanting. Senior teacher Nancy Gilgoff became her primary Yoga teacher over the past many years, and Johanna teaches Ashtanga Yoga as taught by Nancy today.