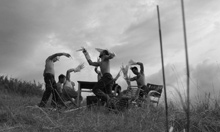 by Annika Nilsson, Anne Sophie Malmberg and Johanna Chemnitz.
The three short films Stolzenhagen Princes are a part of Nilsson, Malmberg and Chemnitz´s series of works researching the staged body undergoing fabulous transformations within landscape and cities.
They were created during the Artist Exchange at Ponderosa in 2008 and 2009 and were presented there as well as at the Potsdamer Tanztage, Internationales Festival für Tanz und Performance in 2010.
We gratefully thank all the participants and Ponderosa for their great support.